Carol Andersen | 1979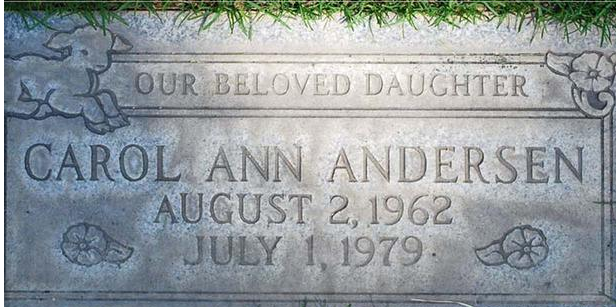 Carol Andersen was going into her junior year at George Whittell High School in Zephyr Cove, Nev., the summer she was killed, near the state's border with northern California. On June 30, 1979, Carol left to go to a party, though their mother had asked her not to go.
Investigators believe that on the night of her death, Carol hung out with friends at Regan's Beach on the banks of Lake Tahoe, before catching a ride to the party on Regina Road, near the Heavenly Mountain Ski Resort. Later in the evening, several people offered her a ride home, but she turned them down.
Investigators say she left the party around 11:30 that night, but it's not clear whether she left on foot or got a ride. What happened next remains a mystery. Just a few hours later, in the early morning hours of July 1, 1979, Carol was discovered dead along the side of the road about four miles away. Investigators say she had been strangled.
If you have any information regarding this case, please contact the El Dorado County Cold Case Homicide Task Force at:
(530) 621-4590
Friends and family never forget and neither should we!